Microsoft has made browser-based versions of popular Office programs available online for free. These versions don't have the kind of power that the full-fledged versions do, but they are great for simple documents in a lightweight format. And since documents are stored in your OneDrive cloud account, they are sharable and facilitate easy collaboration.
Our instructors, especially those in the Oasis centers, have expressed a real desire to have curriculum based on these online Office apps. Many of our students don't need or can't afford the full Microsoft Office suite. So I'm happy to report that Word Online is now available to our partner organizations. It's in the short course format, perfect for 2 or 3 sessions. As always, you'll find lots of screenshots and step-by-step instructions.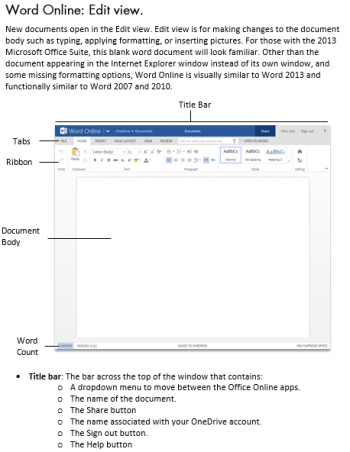 An important part of our mission is to reach the underserved with training technology they can use. I'm excited about Office Online because it is a tool anyone with Internet access can use to find a job, or volunteer for a good cause. I look forward to hearing feedback from instructors and students on this course.