Our Guide expanded so much it got a new name
We've been working on updating the Safety First course and incorporating some of the newer material we've produced over the past several years. The result was something we thought we should rename to better describe the comprehensive internet safety course it became. Introducing The Oasis Guide to Internet Safety: Your Guide to Avoiding Cybercrime, Preventing Identity Theft, and Maintaining Personal Privacy Online! This manual covers today's most important topics, like recognizing social engineering, secure website connections, multi-factor (2-factor) authentication, public Wi-Fi, VPNs, private surfing, and much more.
The guide is now 52 pages long and we recommend instructors schedule at least 3 sessions for future classes. This manual represents a more comprehensive classroom resource to match the online course Oasis Connections Guide to Online Safety and the cybercrime prevention videos we have produced over the past several years. These topics are of great interest to our members as they are constantly bombarded with emails, texts, and robocalls. And, it is available in Spanish!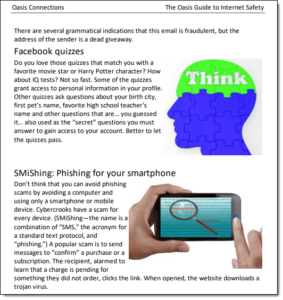 Cybercrime is an ongoing and growing threat to Oasis participants and the participants served by our partner organizations. Cybercrime education and prevention will continue to be a primary focus for Connections in the future. If you'd like to see additional topics included in this manual, or if there are other related topics you'd like us to address, drop us a line and let us know.