Windows 11 is the best yet!
I wasn't impressed at first. In fact, I may have said a few negative things about Windows 11 when I switched my first PC to the beta (pre-release) version. But, after a few months, I'm a convert. I really like 99% of the experience—and I'm hopeful that Microsoft will add the couple of things I miss about Windows 10 in future feature updates.
Note: The Windows 11 Connections manual will be published in the next week
Good news for Connections program partners and instructors. The new Windows 11 class manual is almost ready. It'll be available in English and Spanish. Now let's look at some of the major changes you can expect to see in Windows 11.
Windows 11 looks different (in a good way)
Windows 11 has a sleek polished look with stunning colors and smooth icons. Overall, it is a gorgeous look, especially if you take the time to download some of the free premium themes.
Windows 11 is easier to get around and faster than Windows 10. Windows 11 is safer too. In fact, the security requirements mean that many old computers will not be eligible for the update. You can read more about that in my blog.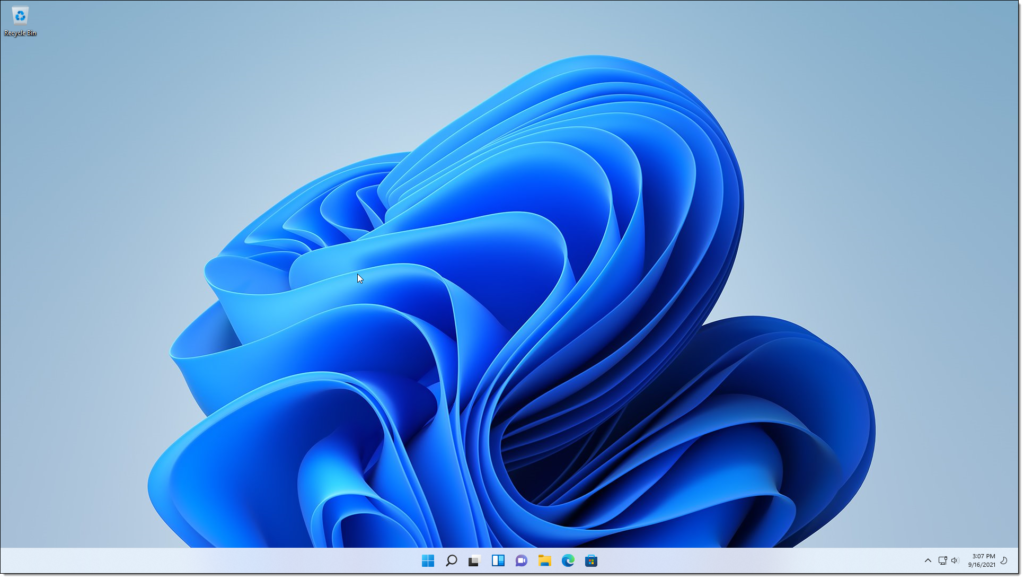 The taskbar has changed
The taskbar has a new look. Windows default apps (Start, Search, File Explorer, etc.) are centered. You can move it back to the left side but modern graphical interfaces (UIs) tend to be centered, especially on mobile devices. So the centered look is more consistent across platforms.
The Start menu button is still to the left of the default apps group, but the new Search button is next, followed by the Task View and Widgets board buttons. Task view—using more than one virtual desktop—is probably the most underused productivity tool in Windows for those of us who multitask a lot. And the new Widget Board is handy for grabbing a quick look at breaking news, weather, email, or whatever you set it up to be.
The far-right side of the taskbar is now called the taskbar corner. You'll find all your system apps and notifications here. You'll also see a microphone icon; the new Windows is bringing more voice control to your desktop.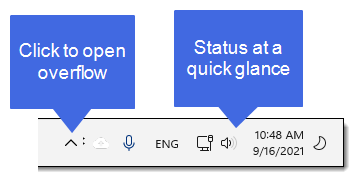 The one thing I miss about the taskbar is the ability to show a separate button for each instance of an app. Windows 11 combines taskbar buttons and forces you to hover over them to choose an instance. As an example, if I have several instances of the Edge browser running, there is only one button. To me, the hovering then choosing is an extra step. The illustration below shows me hovering over the Edge browser button and both instances of the Edge app then displaying.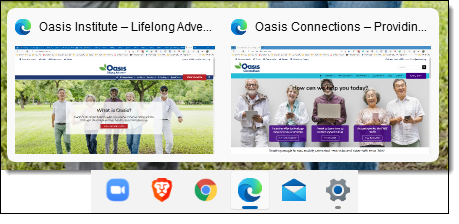 The Start menu is different
The Start menu is far simpler and far less customizable than in Windows 10. You can pin apps to Start and it will keep adding pages, shown by the small dots to the right, as needed. At first I was disappointed that I couldn't resize Start and thought I'd miss being able to group and label my icons. But after getting used to scrolling to the page I wanted, I found it to be super easy and quick. Keeping the icons simple and small actually makes better use of the space. You can still drag your apps to organize them in a way that works for you.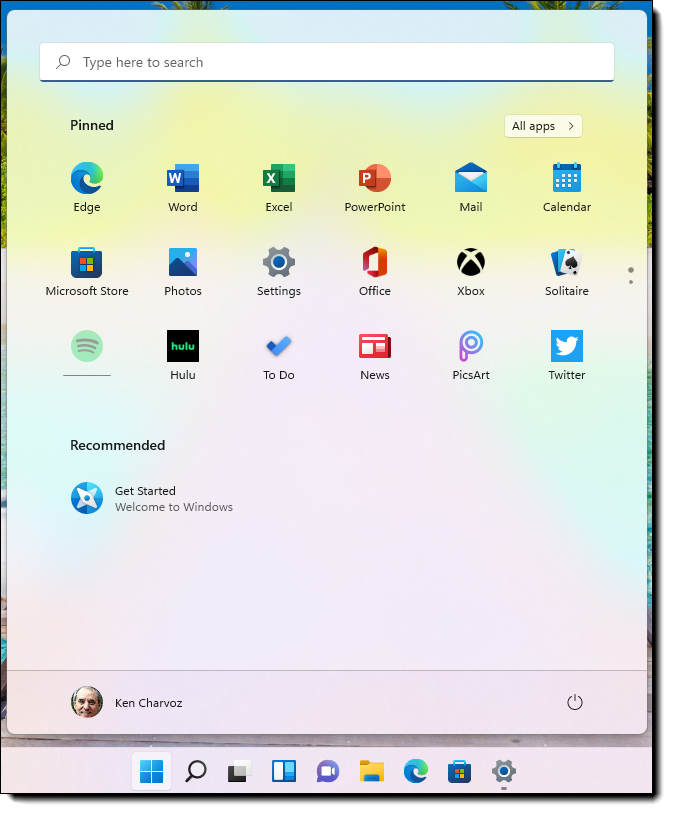 You can also choose to show or hide most used and recently used apps to Start. That turns out to be quite handy. And finally, you can customize Start with system folders like Settings and File Explorer.
Settings. Finally, a layout that makes sense
The whole Settings layout is vastly simplified, expanded, and improved. Navigation is on the left, and settings within the major categories have titles and snippets to help you find what you are looking for. The search box is at the top. If you can remember any part of the name of a setting, search can find it.
Snap layout on steroids
We were introduced to snap layouts in Windows 10, but now there are many more choices. Just hover over the maximize button on a window and choose from 6 default layouts.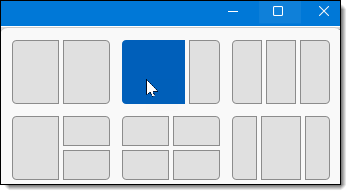 Widgets are here and they have their own home
Introducing the Widget Board. You can open the board by either clicking the Widget button or, on a touchscreen device, by swiping in from the left frame. You are stuck, at least for now, with widgets from Microsoft but hopefully, choices will expand in the future. You can choose which widgets to display, drag to rearrange, and resize some of them. It's a mixed bag. Windows 11 eliminates many of the live tile choices (will they return?) we had in Windows 10 but created a space for a new and improved version with the Widget Board.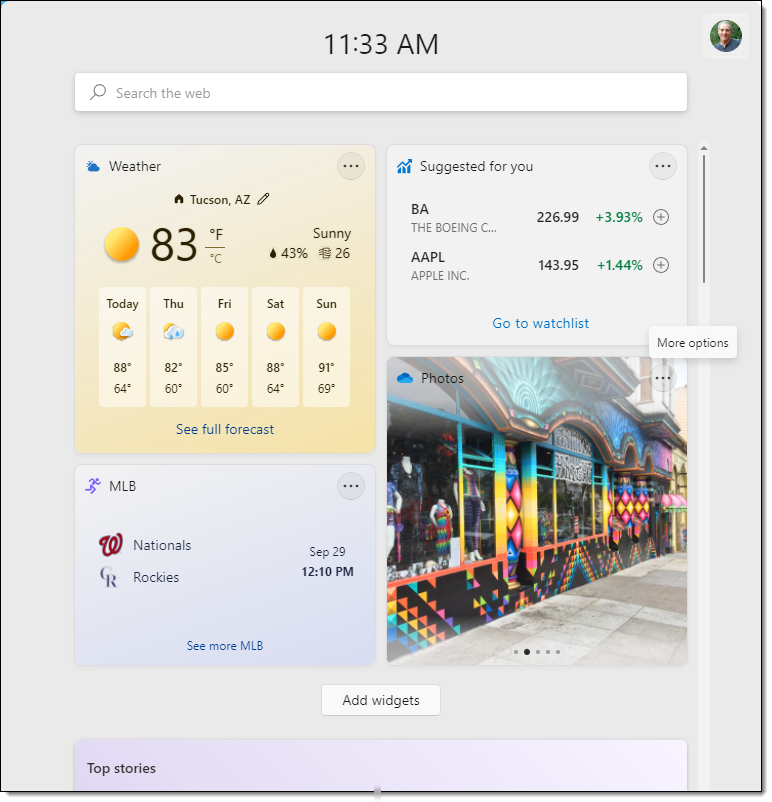 I like Windows 11 and I bet you will too!
I enjoy using Windows 11. It was easy to make the transition from Windows 10 and I wouldn't want to go back. Eventually, everyone using a PC will have to make the move to Windows 11. Beginning in late 2021, new PCs will come with Windows 11 pre-installed. For those who do not want to upgrade to Windows 11, or those who have computers that don't qualify for the new system, Microsoft is supporting Windows 10 until 2025. If you want to know more about upgrading, including information about the new system requirements, check out my blog for the latest information about system specs required for the update.