I admit it, I'm excited. Windows 10 promises to do something I've wished for a long time: Erase app differences between devices.
Microsoft had a big reveal Wednesday, showing off the myriad of new features in Windows 10 and a couple of new hardware items as well. Microsoft also answered the big question on everyone's mind: What will the new system cost? I'm happy to report Microsoft did the right thing. It'll cost nothing.  Nada.  Zilch. For most of us using Windows 7 and Windows 8.1, it's going to be a free upgrade as long as you upgrade within a year of the Windows 10 release.
Microsoft needs everyone to get back on the Windows bandwagon, both for its corporate image and the features that Windows 10 promises to incorporate. Windows 10 on your desktop or laptop will finally give you a reason to take another look at Windows as a software and hardware ecosystem. Windows 10 blends lots of the best features of mobile life and the things we do with our mobile devices, like taking pictures and having different kinds of conversations, and brings them into what should be a pretty seamless environment that remains constant in function, although different in presentation, on any Windows device. In other words, whatever functionality I'm using in a program on my desktop is still there in the same program on my tablet or even phone. It'll look a little different because it will visually re-flow to work in a different environment – touchscreen vs. mouse and keyboard – and screen size, but I'll still have the same underlying Windows 10 software and not a different app made by a 3rd party.
A great example of this functionality can be seen in the Surface Pro. When the screen is connected to the keyboard, it acts like a laptop and is optimized for use with a keyboard and touchpad or mouse. But disconnect the screen and the screen re-flows, optimizing for viewing and being used as a tablet with primarily a touchscreen interface. One device that actually works well in two configurations–one less charging cord!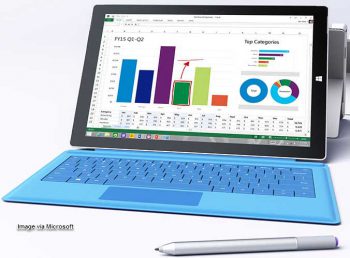 Microsoft wants to redefine itself as delivering Windows as a service. And if they can get you on Windows 10 you'll have a real reason to look at Windows tablets and phones.
Windows 10 didn't leave out anyone. Gamers, business users, music, photos, home streaming, there was something for everyone. Many of my favorite features from the Apple and Google environments have (act surprised) shown up in Windows 10.
Now what Microsoft needs is to deliver a product without the glitches and hang-ups of a new software roll-out. And some outstanding chic devices that can compete with what we are used to seeing elsewhere.