We've added some new information to two of our most popular courses. Introduction to Computers, and its shorter version Meet the Computer, now include Windows 10 information including sections on the Start menu, the Action Center, Cortana, and more. There is coverage of the new Windows 10 browser, Edge, as well, including exciting new options like Reading view and Web Note.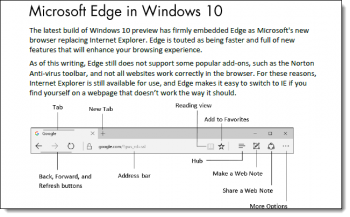 Instructors should note that the Windows 10 update added about 25 pages to the manual. You may need extra time if you cover both operating systems in your class.
Speaking of operating systems, Microsoft is continuing to increase pressure on consumers to move to Windows 10. The upgrade has been updated from "Optional" to "Recommended", and the nag screen seems to give little choice to the user.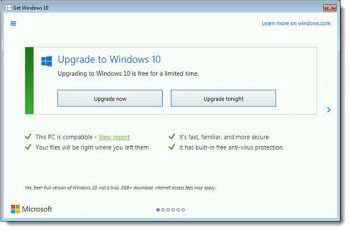 And Microsoft has also announced that Windows 10 will be the only operating system that will be supported on the newest generation of microprocessors (Skylake CPUs and beyond.) Locking in future hardware to Windows 10 only is one way to get everyone on board. So get ready, Windows 10 is coming!