Smart phones are powerful tools that can be used to enhance the things we enjoy. One of the great features of smart phones is all of the apps (applications) that can run on your phone. These programs make your phone a more useful tool by adding more functionality, especially when you're on the move.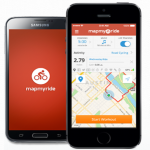 Developers have created apps for nearly every activity, from sharing photos, to restaurant reviews to recipes; there are plenty of apps to make your smart phone a better tool for the things you want to do.
Whether you're on vacation or spending time exploring your own community, smart phones are the perfect tool to help you make the most of your time outside of your home. Bike riders, walkers, joggers, and anyone that exercises outside in general can use this powerful mini computer that fits into a pocket.
Use your smart phone apps, and you will:
Know your way around– Map apps such as Google Maps, help you in many ways. By using the GPS signal on your phone, Google Maps can pinpoint where you are, so you don't have to worry about getting lost. This is a great feature if you're walking, running or biking on a vacation, or if you wish to explore different parts of the city. Other apps such as All Trail, from National Geographic, provide maps for over 40,000 bike trails in the US.
Connect to relevant places and people – Apps like Yelp can help you locate businesses, organizations and non-profits that cater to cyclists, joggers, disc golf, or any other activity. A simple search will display everything in your community. Yelp can also be used to identify local landmarks that might be interesting destinations for your next bike or walking trip.
Track your exercise – Apps like Strava and Map My Ride can use the phone's GPS signal to make a record of your entire bike ride. Not only can these apps record how long you rode, they can also create a map showing your full route, plus average speed and other info. And they allow you to share them with other people that might be interested in seeing your trips. Apps like Fitness Pal can help you track what you're eating, and if you use a walking/running measurement device like FitBit or Jawbone, Fitness Pal syncs and calculates calorie intake and exercise balance.
Have a way to record things you want to remember – most smart phones have a voice recorder app, which can come in handy if you are out and about and see something you want to note for later. You won't need a pen and paper, just turn on the voice recorder, and say what you want to remember. Your phone's camera can help you in the same way. Love that chair you saw in a store window while out bike riding? Take a picture of it and even the store it's in so you'll remember afterward should you want to go back for a closer look.
Have help in an emergency – It's easy to forget that a smart phone is still a phone! And if you have an accident or another emergency, it's always smart to have your phone handy.
Got a smart phone app you love? Share it here and tell us why!