Reviews from online rating sites like Yelp and Trip Advisor can be helpful when you are looking for a great place to eat or need help choosing a hotel. But online reviews are increasingly taking a hit for being inaccurate and even fraudulent.
Yelp is at the center of the controversy. A small business owner in Virginia sued the online review site after a string of damaging reviews caused his business to fall off considerably. The anonymous reviews, he said, were completely false. His suit, which goes to Virginia's Supreme Court later this month, asks Yelp to reveal the true identities of the posters.
This is a difficult issue that pits the right to free speech against the right to protect yourself and your business from spurious and damaging claims from anonymous posters. In some cases, businesses have taken to online reviews to try and damage the competition, even paying for negative reviews from outsiders. The reverse is also true; businesses have been caught posting positive, but fake, reviews, and paying for those as well.
A recent study reports that about 16 percent of the restaurant reviews on Yelp are fraudulent and that, "a restaurant is more likely to commit review fraud when its reputation is weak…" Companies have been caught advertising pay for reviews, on both sides of the coin.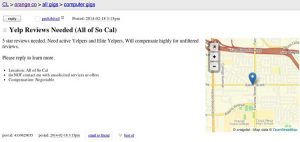 So what can you do?
Take extreme reviews, both positive and negative, with a grain of salt. Beware of reviews with too many superlatives that seem out of place or too effusive, and reviews that are poorly written. Yelp is actively tagging businesses that they find offering pay or other incentives for reviews and alerting readers as shown here.

Mostly, use common sense and compare information you find on one site with other review and rating sites. Check with the Better Business Bureau if possible. Hopefully, the spotlight on this scam will force reviewing sites to improve their efforts to filter out the scams and provide the quality reviews we need and expect.
What do you think? Have you found online reviews to be accurate?