We've got some new courses for our Oasis centers, library partners, and other partner organizations.
PowerPoint 2013/2010 is the latest long course. It features screenshots from the 2013 version, with notes for PowerPoint 2010 where the two versions may differ. The basic-level functions of these two versions are nearly identical with the exception of the Backstage view, so they are combined into one manual. There is a new resource folder with materials used to build a historical slideshow complete with audio, video, and interactive animated slides.
We are rounding out our Office Online offerings with Excel Online and PowerPoint Online. We've had positive response from our partners about featuring free alternative apps for students who might need some basic capabilities but who don't have access to the expensive Microsoft Office suite at home. Here's a page from the PowerPoint manual: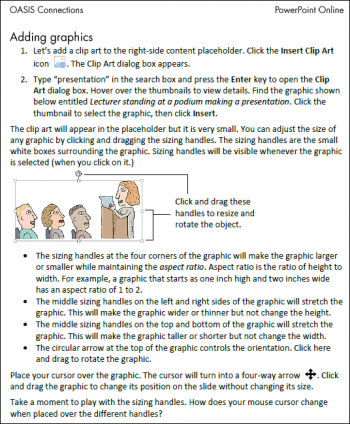 What's coming up?
iOS 8 is one of two big changes on the horizon. I'm running a beta version now and expect to publish some posts here soon about some of the new features. If you're an iOS fan, you'll love the update. There are a slew of new health apps, family sharing, updates to the camera functions (finally a built-in shutter delay!), and so much more.There's lots to talk about, really too much for even the two existing courses.
iOS 7 was adopted by Apple lovers quickly. In fact, it blew away all previous versions of software upgrades in terms of acceptance and downloads in the first weeks of availability. I think iOS 8 adoption is going to be even faster.  We'll be ready to publish new course manuals soon after the release.
The second big change coming up is the release of Microsoft's new Windows 9, or Threshold. If rumors are correct, we could see a public preview offering this fall with a full release in 2015. Windows 8 was tough, let's hope that 9 shows us the best that Redmond has to offer.