Microsoft is shutting down the Windows Modern app and directing users to the desktop version of Skype as of July 7. The desktop version has the deepest set of features (file sharing, messaging, and screen share), and the Modern app, in the Windows 8.1 app format never really caught on with Skype users. The decision to go with the desktop version was based in part on the Skype team's belief that it makes more sense to go with the application that is "optimized for mouse and keyboards use, capable of doing touch as well rather than 2 separate applications performing the same function."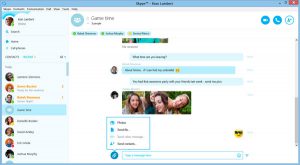 Skype desktop. Image via Microsoft.
This move also positions Skype to be ready for Windows 10 (to be released July 29) when previews for integrated apps for Messaging, Phone, and Video apps will be released. So the go-to app for all Skype functionality will remain in the desktop version, but you will find some functions in other apps as well.
Skype has also added German and French to the Skype Translator preview. This is an exciting move marking serious advances in real-time translation. Translator can also be used as an accessibility tool for the deaf and hard of hearing, with or without language translation. Translator is capable of translating spoken English into written English, and typed English into spoken English.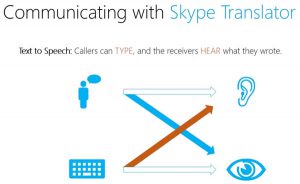 Skype Translator can be used as an accessibility tool. Image via Microsoft.
Translator is available only as an app for Windows 8.1 users, learn more at www.skype.com/translator.