Instagram fans have some new tools to play with in the latest update of the app. Most of the existing tools got an update and offer additional user contol. And there are a raft of new features as well. The updated app is available in the Apple Store and the Google Play Store. Here is a run-down of some of the new features.
You can now double-tap a filter to get to some new adjustments, including control over the filter itself.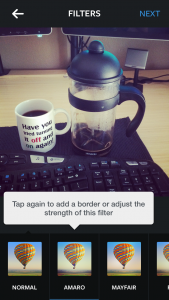 Use the slider to adjust the filter intensity, and tap the little border icon on the right to turn a border on or off. Tap the check mark to save.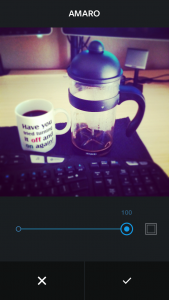 Tap the wrench icon  to access the full suite of new and improved tools.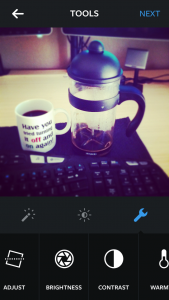 New tools
Brightness  adjusts the overall brightness or darkness of your photo.
Contrast  makes dark areas darker and bright areas brighter.
Warmth  shifts colors toward the orange (warmer) or blue (cooler) spectrum.
Saturation  adjusts the intensity of colors in the image.
Highlights  adjusts focus on bright areas.
Shadows  adjusts focus on dark areas.
Vignette  darkens the edges of the image.
Sharpen  sharpens edges to add crispness.
Improved tools
Straighten
Border
Blur/Tilt Shift
Crop
Lux
Rotate
Simplified video uploads on iOS
Tilt-shift photography alters the depth of field in a way that turns real-life images into a surreal toy-like scene. For a good introduction, check out this article.
Some users have reported that their app did not recognize that there was an update needed – me included. If you run into this, unistall and reinstall the app. It'll only take a couple of minutes and it should get you up and running.