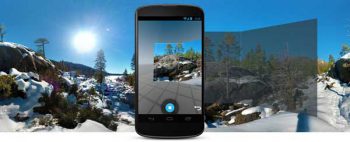 Photo via Google.com
Google's photo sphere app is finally here for iOS users. It's a whole new way of taking pictures, eliminating the traditional restrictive photo frame and instead capturing the entire scene, 360 degrees, top to bottom.
To use the app you simply turn and orient the camera so that the orange ball is inside the white circle. The app will snap pictures at the appropriate moment. For the best pics, hold the camera close to your body, and rotate in place. For a more complete experience, repeat the process tilting the camera up and then repeat again tilting down. The software takes a few minutes to merge the picture data into one amazing photograph that you can share or post publicly on Google Maps for others to view.
We've come a long way since slides and carousels, haven't we? Photo sphere pics can be posted and shared, even embedded in websites. It's now available in the App Store.