The iPhone's signature Maps app is better than ever with some useful new tools compliments of iOS 10. Up until recently, the app had consistently come under fire for its sub-par navigation and poor interface. However, the updates premiered with iOS 10 promise to surprise users and draw some back into the Apple fold from Google Maps or similar services.
Ease of use while driving
First, let's be clear. No one, including Apple, is condoning driving while looking at a cellular phone. That being said, Apple understands that many iPhone users may be stopped at red lights or stop signs and need to take a quick peek at their navigation. They seem to have made some design changes to Maps with this in mind.
Compared with previous versions of the app, the maps appear smoother and clearer. While they continue to have a sufficient amount of detail, their bright colors make it easier to spot your route in a pinch when in a stopped car. Along these same lines, Apple has made the Maps buttons larger and bolder, making it easy to spot and tap "Directions" when the time comes.
Apple thought of everything when it comes to where and when its users are likely to need the app. They even considered how the users were likely to hold the phone if grabbing it from the passenger seat. When bringing up the menu for a particular location, you might notice that the menu does not extend to the top of the screen. This makes the buttons more accessible when using the phone with just one hand.
Syncing with other apps and devices
Some of the most exciting changes that Apple has made to Maps in iOS 10 involve syncing the app with other services and devices. While each individual sync provides users with an exciting and handy new tool, we've decided to lump these features into one category as it speaks to a core desire on the part of Apple to integrate products and services, helping users manage their lives better.
Apple's Calendar app now speaks directly to the Maps app. This allows Maps to remind you when you have an appointment as well as bring up the location of said appointment in a list of suggested destinations.
Maps can also be synced with third party apps like OpenTable, allowing users to make reservations directly through Maps. Note that restaurants must be signed up with OpenTable for you to be able to make a reservation in this fashion.
Other third party apps that can be integrated with Maps include Uber and Lyft, both of which provide customers with fast and affordable cab services in their area. To take advantage of this service, users should download the apps and then seek directions through Maps. When planning their route, users are usually given the option to select directions for driving, walking, or using public transportation. Now there's a third option: Ride. This option allows you to use the functions of Uber or Lyft without actually leaving the maps app.
Finally, Maps syncs with more than just other applications. It talks to the Apple Watch. Users can receive a physical buzz from their watch to remind them when they will soon need to turn or take an exit.
Improved route planning
It's worth mentioning that when we say improved route planning, we are really saying that Apple's Maps now has route planning capabilities on par with that of other navigation apps. Thanks to iOS 10, Apple's Maps now makes it easier to search for locations by category and sub-category. It also includes the aforementioned Ride feature when selecting route options to help users narrow down the best way to get to their destination.
Improved route info while driving
In the past, Apple's Maps has faced criticism for its navigation data. Having come late in the game to navigation software, Apple fell short of apps like Google Maps. Thanks to iOS 10, Maps now gets up to date traffic information faster than before. What's more, it reroutes users more effectively and has more accurate driving time estimates. Finally, more comprehensive business information makes it easier to find places to eat and fill up on gas mid journey.
Never lose your parked car again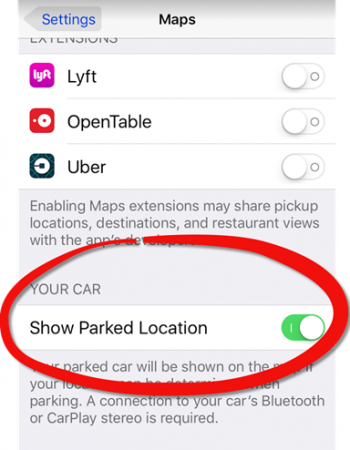 Probably the most interesting new feature in Apple's Maps is the parked car feature. Maps can now remember the last place you were when it was "talking" to your car and remind you of that location. No more getting lost in the Mall parking garage lot this Christmas; Maps has you covered.
iOS 10's changes to Maps mean more than just a better, smarter navigation app. They show that Apple is a company that listens to its users and works to make meaningful improvements to its products.