Cristina  and Alicia met at the Broward County Library's English Café in 2001.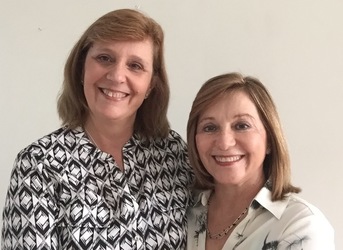 Cristina, migrated from Colombia and Alicia, came from Argentina. They had a lot in common. Both relocated to America because of new jobs for their husbands. Both were missing their careers. Alicia was a Certified Public Accountant in Argentina; Cristina was an attorney in Colombia. Both had one son and two daughters. Both were amazed by the hospitality and helpfulness they experienced in Ft. Lauderdale as immigrants.
"People were unbelievably helpful," says Alicia.
The warm welcome made a real impact on the women and their families, all of whom are now proud U.S. citizens. The two vowed that once their children were a bit older they would find a way to give back to their new home community.
Library offers unique volunteer opportunity
Early in 2013, Cristina found the perfect volunteer opportunity—teaching technology classes for the Broward County Library. "We attended training in February 2013 for the Oasis Connections program. By August, we were teaching. The students we teach are so enthusiastic about learning. That enthusiasm gives us purpose," she says.
Together, Alicia and Cristina have taught 70 classes and reached at least 250 students. "When I see how happy and appreciative our students are because of the impact what they learn in class has on their ability to build skills and find better jobs, it brings me great happiness," says Alicia.
Building skills for students and instructors
"Lately our classes focus on Microsoft Office and job search skills. We rarely see beginners. If you're working you always need to keep learning more. And every time we teach, Alicia and I learn more ourselves," adds Cristina.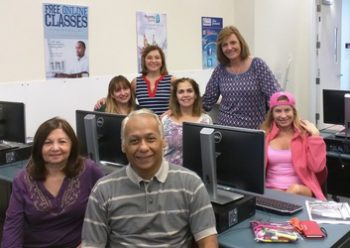 David Lawrence, Weston branch manager of the Broward County Library says, "Alicia and Cristina have been a great asset to the community. Many people have been able to use what they learned to land jobs, or just feel more comfortable with evolving technology. Alicia and Cristina are very patient and dedicated to their students. They are always happy to help and go above and beyond to help improve the peoples' lives through their computer training."
Both women have full and busy lives. Alicia is an accountant and Cristina is an academic advisor. They also enjoy spending time with their families, with each other and at the library.
The Broward County Library offers a variety of Connections classes.