Microsoft has released an update to fix a newly discovered security flaw that could allow "remote code execution" of a computer. The flaw is exploited through documents or webpages with embedded OpenType fonts and was considered critical enough for Microsoft to issue an immediate out-of-cycle patch. All current versions of Windows are affected including Windows Vista, Windows 7, and Windows 8 and 8.1.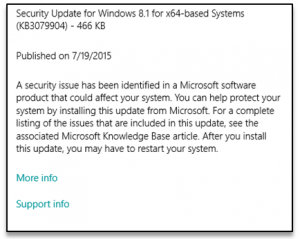 If you have automatic updating enabled (and you should) the patch will be downloaded and installed automatically. If not, or if you want to install the patch right away, you can check for updates manually. For Windows 8.1:
1.       Press the Windows key, then type "updates" and click or tap Check for updates.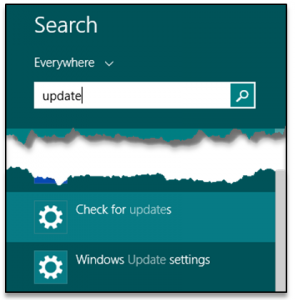 2.       Click or tap Check for updates. You should see an option to install this security update: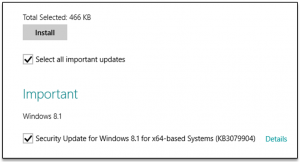 3.       Click or tap Install and wait for the installation to complete. Your computer will need a restart in order to finish.
According to the Microsoft Security Bulletin issued today (July 20, 2015), Microsoft did not know of any instances of this flaw being exploited.